Animal Success Stories
We love to hear stories about the dogs you adopted from us.
Send us your stories and don't forget to send a photo too!
Click a letter to find an animal or
view all
.
Glory Puppy Yellow 0499
Kiki is wonderful we love her so much. I can't believe it's only been a few months, we can't imagine our home without her.
She is very funny and loves to play. We go to the dog park everyday and she has a few best friends in the neighborhood. Her big sister has learned to love her. It took a week or so for Roxy to adjust but now they are always laying together. We are so thankful for your rescue and grateful for our baby girl.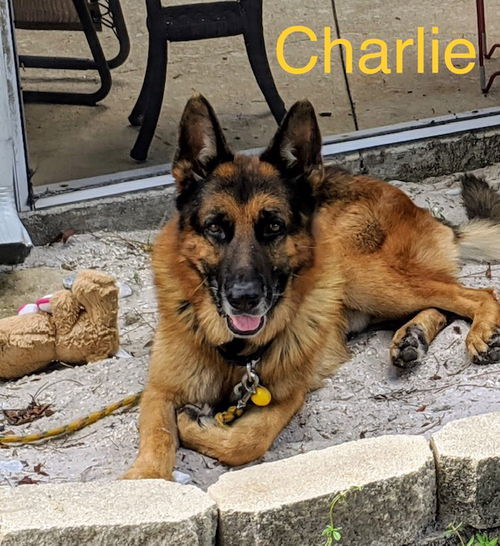 Charlie 0184
Charlie
A BCGSR Success Story
Charlie was picked up off the streets of Miami by the DAS. He was severely underweight, nails worn down to nothing, and canine teeth worn down. He was heartworm positive and could hardly walk from being so weak. He was transported immediately to BCGSR. At the time, it was questionable if he would even survive the trip across the alley.
Dennis, Jackie and Shadow took Charlie in, fingers crossed that there would be a positive outcome and lead to a forever home.
In the beginning, Charlie could hardly walk. His back legs and hips were weak and crossed when he walked. His fur was matted and course. His spine and ribs were noticeable, and he could not sit up properly.
Charlie was a very insecure Shephard . He did not want to be left alone. During covid , Charlie assisted Dennis and Jackie in fostering two puppies, Trina (aka Harley) and Linus (aka Shark). Charlie loved watching the two puppies' play. He would hover over them and protect them.
As time passed and he gained strength, he was given heartworm treatment. He took the process like a trooper. Eventually beating the disease.
After almost five months of being in a foster home, Charlie was adopted. After two days, he was returned, which turned out to be a blessing. Immediately he was adopted a second time by wonderful loving parents Doug and Dianne. He now lives in the perfect home for him. He runs along side the golf cart until he gets tired, then jumps in and rides home. After two years, his nails were filed for the first time, and has put on the weight that is appropriate for him.
Charlie still has a few challenges, but he is healthy and a loving companion. Never give up on these dogs. There is a home out there for every one of them.
Aqua Akoya Pup 0422
She has been the best addition to our family and Chewy (another adoption from Big Cypress) and Harley are in awe of her. She is such a sassy, smart, and sweet fur baby. She loves to steal the big dogs toys and run under the table and have them chase her. She will play tug of war with them and then go to snuggle with them when she's all done playing. My husband and I were apart of her mom, Akoya's transfer down to Naples and knew right then that we wanted to adopt one of her puppies when they were born. Kodie has been the best fit for our family and definitely keeps us all on our toes. They all get along great and I couldn't have asked for a better dog for our family. Thank you BCGSR for choosing us to be her forever family. <3
Tina Lena 0228
Just a little over 2 years I saw this girl on Big Cypress FB page up for adoption, I immediately texted Janis and said do not adopt her out I want to meet her. I drove down by myself to see if I felt a connection, then I drove back down with my male Winston and we walked without any problems; I signed papers and the rest is a complete love story between a mouthy, high energy, uncontrollable German Shepherd and a driven high energy Handler that had a hunch. First came rehab, which is tons of love, praise, patiences and consistent in her daily life in her new home. Then came German Schutzhund Obedience and teaching and training her in obedience. After 5 months she received AKC Good Citizen Certificate, 3 months later came Schutzhund BH Certificate, 2 months later came Schutzhund Tracking 1 Title, 2 months later drove up to NC and received Schutzhund Tracking 2 Title. We are ready to trial for Schutzhund Tracking 3 whenever one opens up here in FL, also training perfect focus and heel for Schutzhund Obedience 1.
Now Skye aka Tina Luna has overcome many bad untrained behavior issues and is a complete confident Champion who never stops kissing me, I understood her, I knew what she needed and I was happy to give her all of it. She tracks every day, walks 2 miles in am, runs in fenced in area every afternoon, 2 hours after dinner another 1 mile walk. Consistency, love, gave her a job and love conquer. My goal is to take her to her fullest potential, and we are not there yet; so onward we go. Winston and I love her beyond words. Many thanks to the shelter, Lisa, Perla( first foster Mom), Big Cypress , Michelle and many many Schutzhund Judges and friends/ trainers who have helped us get to this point! Never, never underestimate your dogs potential, who knew Skye was a Champion awaiting the right owner to bring it out of her. Thanks Big Cypress for the perfect match🐾
Let me know if it's ok or your thoughts????
Thanks for always supporting us, it's not over yet, lol
Noa 0299
I had originally met Noa when she was first rescued by Big Cypress. I had walked her a few times when she was still with Michelle Delaney. She was pretty shy back then but I saw something special in her. However, at that time, we still had Elsa, the dog we were fostering as her hospice home. Elsa did not care for other dogs. Elsa lived with us for 22 months which was about 18 months longer than her original diagnosis. After Elsa passed in September 2021, we were really missing the company of a dog.
I thought for sure Noa would have been adopted by the time we were ready for another dog. I had shown my husband pictures of Noa as I saw her still available in posts on Facebook. My husband also saw something special in her! So we contacted Michelle and she put us in touch with Cheri WIlson, the wonderful woman that was fostering Noa for well over a year....I believe it was 17 months! So on January 15, 2022, Cheri brought Noa over to meet with us. And that was the beginning of our life with Noa. Noa stayed with us that night and we never looked back! Noa has really adapted well to our home and enjoys being able to go out and roam on the lanai. We go for frequent walks throughout the day and of course, we play with a ball throughout the day! Noa is pretty demanding when she wants to play! She will grab on of her many balls that are around the house and roll them onto the table, across my computer, or wherever she has to plop it to get our attention! And there is no ignoring her when she wants to play! LOL
Noa has gotten to know many of our friends and knows that she gets lots of love from all of them. If you are not a dog person, then you probably don't want to come to my house! Noa has the run of the place and has her own special beds in two of our rooms, so she has options during the day if she is home alone. At night, she is right next to us in our room in one of her beds. But one of her favorite spots is on her cot that we got her so that she can lounge out on the lanai. When we sit outside at night for cocktail hour, Noa knows that she also gets a treat of chicken chips! How quickly she learned to give her paw to earn a treat! Now she will simply put her paw up before we even ask to let us know that she is ready for her treat! She is so smart! She puts a smile on our faces every single day.
Noa has found her forever home and we love having her! Here are a few pictures of Noa.
Click a letter to find an animal or
view all
.