Animal Success Stories
We love to hear stories about the dogs you adopted from us.
Send us your stories and don't forget to send a photo too!
Click a letter to find an animal or
view all
.
Tina Lena 0228
Just a little over 2 years I saw this girl on Big Cypress FB page up for adoption, I immediately texted Janis and said do not adopt her out I want to meet her. I drove down by myself to see if I felt a connection, then I drove back down with my male Winston and we walked without any problems; I signed papers and the rest is a complete love story between a mouthy, high energy, uncontrollable German Shepherd and a driven high energy Handler that had a hunch. First came rehab, which is tons of love, praise, patiences and consistent in her daily life in her new home. Then came German Schutzhund Obedience and teaching and training her in obedience. After 5 months she received AKC Good Citizen Certificate, 3 months later came Schutzhund BH Certificate, 2 months later came Schutzhund Tracking 1 Title, 2 months later drove up to NC and received Schutzhund Tracking 2 Title. We are ready to trial for Schutzhund Tracking 3 whenever one opens up here in FL, also training perfect focus and heel for Schutzhund Obedience 1.
Now Skye aka Tina Luna has overcome many bad untrained behavior issues and is a complete confident Champion who never stops kissing me, I understood her, I knew what she needed and I was happy to give her all of it. She tracks every day, walks 2 miles in am, runs in fenced in area every afternoon, 2 hours after dinner another 1 mile walk. Consistency, love, gave her a job and love conquer. My goal is to take her to her fullest potential, and we are not there yet; so onward we go. Winston and I love her beyond words. Many thanks to the shelter, Lisa, Perla( first foster Mom), Big Cypress , Michelle and many many Schutzhund Judges and friends/ trainers who have helped us get to this point! Never, never underestimate your dogs potential, who knew Skye was a Champion awaiting the right owner to bring it out of her. Thanks Big Cypress for the perfect match🐾
Let me know if it's ok or your thoughts????
Thanks for always supporting us, it's not over yet, lol
Noa 0299
I had originally met Noa when she was first rescued by Big Cypress. I had walked her a few times when she was still with Michelle Delaney. She was pretty shy back then but I saw something special in her. However, at that time, we still had Elsa, the dog we were fostering as her hospice home. Elsa did not care for other dogs. Elsa lived with us for 22 months which was about 18 months longer than her original diagnosis. After Elsa passed in September 2021, we were really missing the company of a dog.
I thought for sure Noa would have been adopted by the time we were ready for another dog. I had shown my husband pictures of Noa as I saw her still available in posts on Facebook. My husband also saw something special in her! So we contacted Michelle and she put us in touch with Cheri WIlson, the wonderful woman that was fostering Noa for well over a year....I believe it was 17 months! So on January 15, 2022, Cheri brought Noa over to meet with us. And that was the beginning of our life with Noa. Noa stayed with us that night and we never looked back! Noa has really adapted well to our home and enjoys being able to go out and roam on the lanai. We go for frequent walks throughout the day and of course, we play with a ball throughout the day! Noa is pretty demanding when she wants to play! She will grab on of her many balls that are around the house and roll them onto the table, across my computer, or wherever she has to plop it to get our attention! And there is no ignoring her when she wants to play! LOL
Noa has gotten to know many of our friends and knows that she gets lots of love from all of them. If you are not a dog person, then you probably don't want to come to my house! Noa has the run of the place and has her own special beds in two of our rooms, so she has options during the day if she is home alone. At night, she is right next to us in our room in one of her beds. But one of her favorite spots is on her cot that we got her so that she can lounge out on the lanai. When we sit outside at night for cocktail hour, Noa knows that she also gets a treat of chicken chips! How quickly she learned to give her paw to earn a treat! Now she will simply put her paw up before we even ask to let us know that she is ready for her treat! She is so smart! She puts a smile on our faces every single day.
Noa has found her forever home and we love having her! Here are a few pictures of Noa.
Holiday 0364
Holiday lives with us and 5 other dogs(3 GS & 2 Great Danes). Our son (24yrs old)comes home from college and visits when he can. Holiday does very well with company coming over & LOVES our Dog Sitter Candice who also happens to be our Vet-Tec at LBAH. Her and I walk every morning and after work we all go together. Now that her hook & whip worms are gone she has an amazing appetite! She has learned when we leave for work (a few hours a day for me) she goes right in her crate. We also crate trained her for when she needs to keep calm & rest when the heartworm treatment really gets underway. She loves her chew toys and loves her big fenced in yard! We hang out with our dogs EVERY night after work either outside by the pool, or in the yard, or just watching movies. We truly feel she has been the best addition to our family and fits right in. It's only been shy of 2 months but sometimes when I look at her it looks like she is just smiling…..I call her my "Grateful dog" we are grateful for her and feel she thinks the same of us.
Thanks for checking in!
Ace 0365
We had our first gathering at the house for Thanksgiving with 17 family members and friends. It was Enzo's first holiday and he fit in with the whole family. He thought corn hole was for him at first to chase the bags as they were being thrown. After a short lesson he stopped wanting to chase the bags and was just watching us play (pic attached). By the end of the day he was exhausted and I got on the floor with him to give him some loving. Enzo is a great cuddler, good with kids of all sizes, and has a good demeanor with other dogs at the dog park. He has made our home a better place.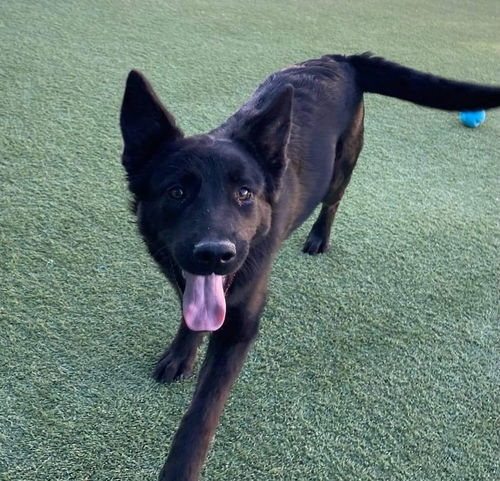 Ghezzi 0346
Prophet & Ava (Ghezzi)are adjusting well. They have settled into the daily routine well. Addie was a bit bosses at first but have graciously accepted them into the pack. Jack & Aidan get along great with Ava & Prophet. Ava has bonded closely with Aidan and they have a daily play routine. Prophet is excited when Jack comes home from his day program and showers him with kisses.
Ava has had a few accidently the past few days while sleeping on the bed. We are calling the vet tomorrow to get her checked out.
Ava is growing a bit and is up to 51 lbs. Prophet has gained some muscle mass and is up to 80 lbs. They settle down at night and sleep for 8 hours before needing a potty break. They love their walks and run and play in the yard daily.
We have to watch the laundry when they are bored or the socks and dryer balls get stolen.
No allergies or skin issues. They are teaching a limited ingredient grain free kibble from Pure Vita , some veggies and fruit with a variety natural treats from the locally owned pet store. Prophet us a food hound so Addie who eats slowly is fed separately so he doesn't steal her food. Ava won't let him steal hers.
Click a letter to find an animal or
view all
.